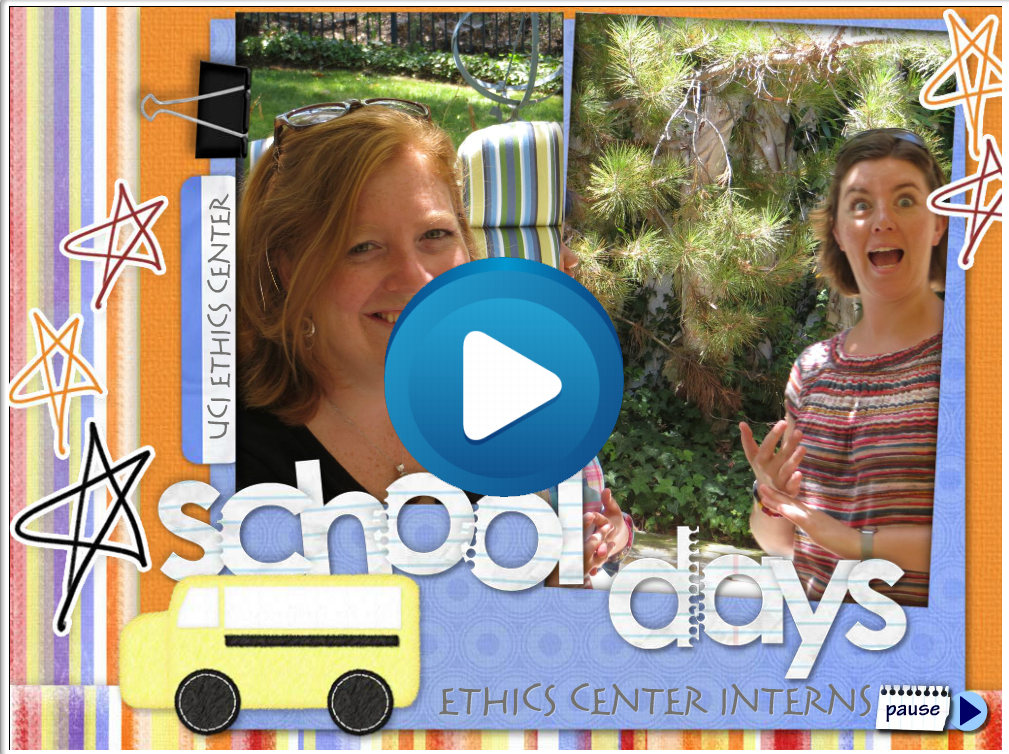 SUMMER INTERNSHIPS AT THE UCI ETHICS CENTER
SUMMER PROGRAM: Each summer the UCI Ethics Center selects a few promising students -- from UCI and nearby high schools, along with local college students home for the summer—who are interested in working closely in a mentorship program with a university faculty member or a graduate student mentor. In past years, we have tended to accept 3-4 high school interns, 4-5 students from other colleges and universities, and 5-10 UCI undergrad and graduate students. Past interns from other colleges have come from Yale, U of Chicago, Simon Fraser University, and Notre Dame inter alia. Sometimes students come to the intern program with a project on which they wish to work and sometimes they choose a topic after consultation with the Director of the Ethics Center, who then can place the student with the best faculty member for mentoring. The only requirement for a research topic is that the project both increase student sensitivity to ethical issues and allow students to become engaged in scholarly research.
ILLUSTRATIONS: The following illustrate the types of projects in which students have been involved
A book project the Director did with two interns: A Darkling Plain: Stories of Conflict and Humanity during War (Cambridge U Press 2015). 2 high school interns listed as co-authors. On Ethics and Economics: Conversations with Kenneth Arrow (in press). One of this book's co-authors is a former Center intern, now working as a lawyer at Covington and Burling. Science, Ethics, and Politics: Conversations and Investigations, an edited volume with chapters by Francisco Ayala, Kenneth Arrow, Warren S. Brown, William Chiu, Joe DiMento, Gil Geis, Peter Hawkins, Jennifer Hochschild, Cheryl Koopman, Nicholas Lampros, Chloe Lampros-Monroe, Adam Martin, Rose McDermott, Kristen Renwick Monroe, Gregory Peterson, Bridgette Portman, Thomas Schelling, Michael Spezio, Kevin Reimer, James Van Slyke, and Nicole Wernimont. Published by Paradigm in 2011, 6 of this book's contributors were Center interns, each of whom received credit for their work on a particular chapter.
These illustrations suggest how extensively we encourage students to become actively involved in research and how -- if they do this well -- we reward them by acknowledging their assistance publicly via shared authorship of some kind. Interns also receive a letter of recommendation to go in their file, to be used for college, grad and professional school applications, or for jobs. The best interns also are designated Francisco Ayala Scholars, to honor the work of Francisco Ayala, one of the founding members of the Ethics Center, distinguished scholar and recipient of many prestigious awards, ranging from the Templeton Prize to the Presidential Medal of Honor.
Each year the formal internship program runs for roughly one month, usually covering July and August; during this time the interns meet with the Director two times a week. Students often continue working on their project after the formal internship is completed.
HOW TO APPLY:

Faculty members willing to mentor students can volunteer to serve as a mentor by emailing Marilu Daum at TBA your contact information by May 1, 2020.

UCI grad students who wish to apply should send Marilu Daum at TBA by May 1, 2020 that following: (1) if you are willing to mentor a college or high school student; (2) if you have a project of your own on which you wish to work and, if so, describe it in one paragraph; and (3) if you do not have an existing project, if you are willing to work on a joint project with the Director and other interns.
For UCI graduate students who are interested in applying, we offer modest stipends. More information will be provided on the first day of class.
All students -- UCI graduate students, under-graduate students, local high school or college students interested in being mentored -- should send an interest letter and resume in PDF format to Marilu Daum by June 1, 2020 at TBA.
Acceptances for the 2020 Summer Internship Program are evaluated on an on-going basis until all slots are filled. We will try to notify applicants as soon as decisions are made but we definitely will send out decisions by mid June, 2020.
2020 SUMMER INTERNSHIP PROGRAM:
Due to the current situation, the 2020 CEM Summer Internship program will be conducted in virtual reality, via Skype, Zoom or email from Monday, June 29, 2020 to Friday, July 24, 2020.
We regret not being able to work with interns more closely but our first concern must be the well-being of all.

Note: Due to the unusual period in which we are living -- because of COVID 19 -- the application due date has been extended until June 1, 2020.
Applications from outside California and foreign applications will also be considered until June 1, 2020.
Please send your Resume and Interest Letter in PDF format for the reviewing and acceptance process by June 1, 2020 to TBA atTBA.
All instruction during the 2020 Summer Internship will be online and applications from students outside California will be considered.
Because of the death of George Floyd and the ensuing political events, two additional modules were added.
Module 6: It about American equality and asks if it is fact or fiction. Discussion centers on the politics of social categories and examines American immigration policy, especially toward Latinx groups
Module 7: It discusses the proper response to morally reprehensible political regimes and acts.
Email your top
two

preferences to TBA at

TBA.
2019 SUMMER INTERNS
Jaden Thomas Bryan
A senior at San Juan Hills High School who is interested in environmental stewardship, political engagement, and developing statistical software models. He hopes to study computer science and business ethics after high school.
Ryan Bui
His interests is in working on a problem and finding solutions with partners to find new strategies to solving a problem and as a way to meet new people. He also enjoys playing recreational and competitive tennis at his school's varsity team and spending as much time as possible with his extended family and attending church.
Soo Bin Cho
A first-year student at UCI majoring in philosophy and participating in the Campuswide Honors Program. She is most interested in topics such as legal philosophy, moral philosophy, existentialism, and aesthetics.
Ryan Chung
A senior at Troy High School. His favorite subject is AP US History. His interests include writing newspaper articles for the Korean Times and interviewing his fellow students on the 7th Period Podcast. He would like to major in political science, sociology, or communications in college.
Olivia Dupuy
A freshman at the University of Pennsylvania majoring in Political Science with a minor in Creative Writing. She is editor-in-chief of Inkblot Literary Magazine and interested in the intersection of creative writing and political advocacy. In college, she plans to continue her involvement with public service and educational reform for low-income and minority students.
Lizzy Gale
A senior at Woodbridge High School, interested in history and psychology.
Hannah Go
A rising senior at West Ranch High School who is interested in psychology.
Kowoon Jeong
A junior at Irvine High school. Interested in majoring sociology, more specifically, data science. Passionate about analyzing real-world data to discuss current social issues and conflicts.
Yeji Jong
A sophomore at Cypress High School. She is interested in social movements, especially intersectional feminism. Her hobbies include Speech and Debate, journalism, and piano.
Austin Jung
A rising junior of Sunny Hills High School. Interested in the STEM field, hopes to get into Massachusetts Institute of Technology.
Ritvik Kandarkar
A junior at Whitney High School, interested in political science ever since starting middle school and have interned for many political figures and campaigns as a result. International relations and public policies are two fields of interest and would like to create legislation that benefits our society as well as the world. Some casual interests are volunteering at a nonprofit political advocacy firm called the Borgen Project as well as Citizens Take Action, a nonprofit devoted to ending big money in elections.
Woochang Kim
Interested in the humanitarian field, such as history, English or social science, and is planning to major in a field related to that in the future.
Joshua Kim
A junior attending St. Margaret's Episcopal School. His academic interests revolve around history and current events. He has nurtured his passion for world history through a club that he started called History Trivia Club. Weekly, he provides students a fun way to learn about major events that have taken place in the past. As for current events, he writes articles on a monthly basis for the Irvine Community Media Club, and his work is published in an international journal. He also gets to speak about his interests through a leadership program called Tartan Inclusivity Diversity Education.
Sarah Kim
An upcoming senior at Yorba Linda High School who is interested in majoring in Public Health and Psychology.
Shaianne Kim
A junior at Santa Margarita Catholic High School. She likes to go to the beach, play the piano and guitar, and hang out with friends. Growing up at church, was accompanied by families and friends, who some had special needs. Always had an interest in helping and learning more about people with special needs. Also very interested in serving the homeless, elderly, and going on missions trips.
Ryan Lou
A senior at Diamond Bar High School. Interests include politics and law, especially foreign policy and criminal law, and enjoys studying how these topics intersect with the environment and sustainability. At school, is involved in the Debate Club, JSA, Model UN, and Mock Trial, and plans to major in political science. Pastimes include watching The Office on Netflix and playing basketball with friends.
Uyen Mai
A junior at UCI, majoring in public health sciences with minors in philosophy and international studies. She is passionate about topics regarding global health, the global refugee crisis, and the intersectionality between the arts & humanities and STEM. She is heavily involved on campus, working with non-profit and campus organizations such as Model United Nations, Liberty in North Korea, Healing through Humanities. Her current research interests are immunology and molecular biology, and wishes to pursue research in other fields such as public health and bioethics. Her goal is to pursue medicine and eventually work in the non-profit sector providing medical care to vulnerable populations, such as refugees and war-torn communities.
Annika McGraw
A second-year undergraduate student at California Polytechnic State University-San Luis Obispo, majoring in Animal Science and minoring in Ethics, Public Policy, Science and Technology, and Dairy Science. When not studying, one can find Annika playing polo on the Cal Poly team or volunteering at the local cat shelter. In the future, she hopes to pursue a career as an ethical consultant at an agricultural or dairy company.
Kate McKernan
A senior and an IB diploma candidate at San Clemente High who is interested in history, behavioral sciences, and moral reasoning.
Kadin Mesriani
A senior at the Crossroads School in Santa Monica. He is interested in philosophy and law. He also enjoys running and photography. Currently, he is working on helping the homeless through a club he co-founded at his school, and he hopes to expand his efforts to help others on a wider scale.
Grace Mosher
A third-year English major at UC Berkeley with interests in human geography and data science, and intends to pursue graduate work in geography.
Tyler Nguyen
His interests includes anything that involves technology, and more specifically computer hardware.
Daisy Noh
Interest includes public speaking and education for young girls. Someday, she aspires to work in a creative position that allows her to be innovative and inventive while making a positive impact on society.
Katelin Paik
A junior at Sonora High School interested in sociology and criminal psychology. She hopes to attend a UC University.
Lindsay Park
An incoming senior at Los Alamitos High School who advocates for moral support in maternal healthcare. She aspires to spread awareness of the importance of mutual empathy among human relationships. Her journey has taught her that empathy overrules indifference, reason nullifies pain, and love outstands immorality. During her leisure, she enjoys researching about immunology, traveling to new places, and playing the violin.
Annie Qiao
A rising senior at Portola High School. Her passions include writing in the school newspaper and playing in her school's bands. Through her experiences at school and with others, she has fostered an interest in writing and philosophy. When she has free time enjoys eating sushi and playing with her cat, Riceball.
Justin Ryoo
Interested in analyzing similar patterns of events or behaviors throughout history and in the present.
Rawnie Singh
Interested in the field surrounding architectural or civil engineering. Ideally. She would like to combine this with giving back to the community around her in some way, which is why she is currently on the board of her high school's community service club. She also enjoys photography and graphic design, and actively works tech for shows in theater, as a lighting designer and programmer.
Ahmed Suri
A rising senior at Yorba Linda High School interested in pursuing economics.
April Wang
A rising senior in high school. She is very interested in the humanities, especially philosophy and history. She is also passionate about debate, writing, and social activism.
Kyle Wong
Interested in poverty and how being impoverished affects the psyche of someone. He likes to think about what ways can best help someone in poverty and what can best prevent poverty from afflicting too many.
Julie Yoo
Her hobbies ever since she was young are volleyball, track, and traveling to countries like Brazil and states like New York. Loves being outdoors and going to the beach on the weekends. She loves expressing her opinion, writing journals, and updating herself with current news articles through her phone. Also, has always enjoyed taking pictures with her friends and family.
Lauren Yu
A freshman at Valencia High and is pursuing a future in medicine.
Patrick Yu
A rising 11th grader at Brea Olinda High School who is currently interested in both computer science and medicine.
2018 SUMMER INTERNS
Siyuan Chen
Kelly Park
Soojung Ki
Nichole Kim
Ashley Kim
Prince Paa-Kwesi Heto
Ryan Ishii
Jessica Marie Gonzalez
Nicole Park
Nicole Liu
Sonya Gluckstein
Sunny Song
Joon Lee
Samuel Shih
Annika Sial

2017 SUMMER INTERNS
Richard Chung
Michelle Chung
Yunji Jong
Elham Kazemi
Seong Joon "John" Kim
Alvin Lee
Claire Lee
Emeizmi Mandagi
Michaela Murphy
Vishwa Padigepati
Daniel Paik
Stephanie Palmer
Daniel Park
Christopher Pettit
Jemin Ryoo
Samuel Shih
Gurveer Singh
Johnny Tan
Hitomi Torng
Jun Yun
Itzel Vazquez-Mora
2016 SUMMER INTERNS
Cecilia Avila
Nicole Balian
Caroline Cai
Yeonsoo (Jenny) Chang
Ethan Davis
Julianne Kim
Sanjana Krishnan
Ramona Martinez
Morgan Ma
Eunice Park
Morgan Pak
Danya Rafiqi
Ryan Nhu
Melanie Sobri
Shilpa Rajagopal
Nikki Tran
Alex Zhao
2015 SUMMER INTERNS
Massil Adnami
Gabriel Anderson
Sarah Bach
Eric Baldwin
Jason Berger
Scott Brown
Brittany Chen
Matin Eshaghi
Jessica Garcia
August Gweon
Michelle Jang
Jennifer Jones
Lauren Kim
Angela Lee
Denny Lee
Stella Liu
Deena Saadi
Marisol Samayoa
Kayla Schneider
Cindy Tran
Eric Yu
Kiwon Yun
2014 SUMMER INTERNS
Massil Adnani
Charmaine Archer
Silvia Avetisian
Eric Baldwin
Daniel Driscoll
Matin Eshaghi
Gabriel Forthal
Liana Gheorma
Scott D. Jacobsen
Jennifer Jones
Sabrina Liang
Gina Park
Kyle Pham
Alex Raleigh
Jeremy Wang