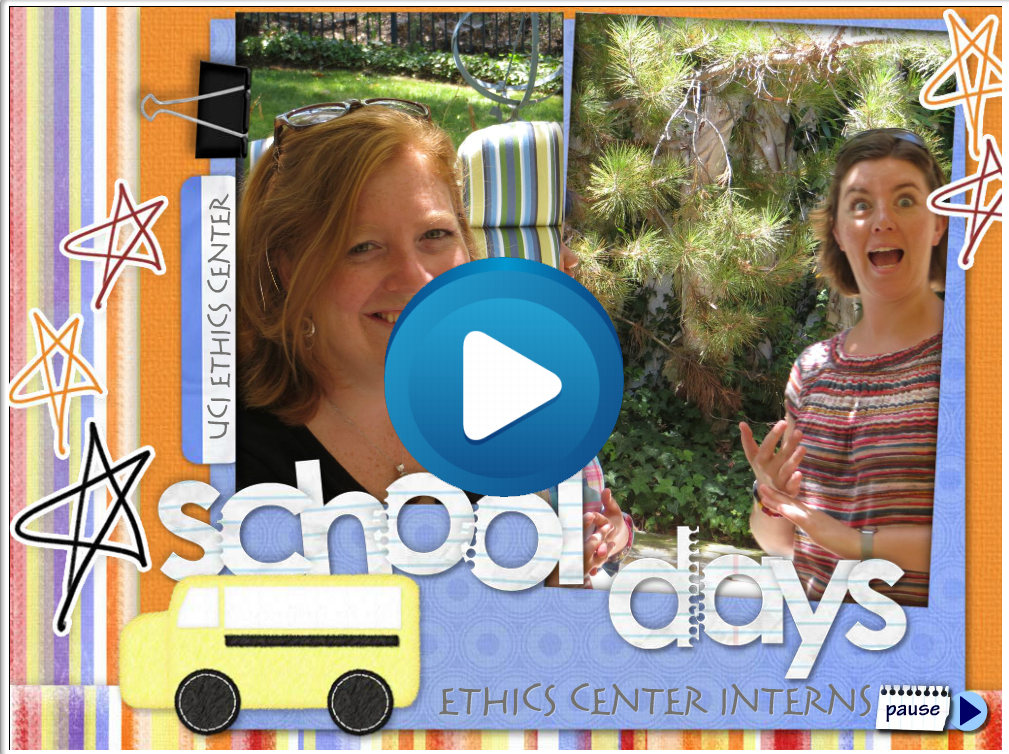 SUMMER INTERNSHIPS AT THE UCI ETHICS CENTER
SUMMER PROGRAM: Each summer the UCI Ethics Center selects a few promising students -- from UCI and nearby high schools, along with local college students home for the summer—who are interested in working closely in a mentorship program with a university faculty member or a graduate student mentor. In past years, we have tended to accept 3-4 high school interns, 4-5 students from other colleges and universities, and 5-10 UCI undergrad and graduate students. Past interns from other colleges have come from Yale, U of Chicago, Simon Fraser University, and Notre Dame inter alia. Sometimes students come to the intern program with a project on which they wish to work and sometimes they choose a topic after consultation with the Director of the Ethics Center, who then can place the student with the best faculty member for mentoring. The only requirement for a research topic is that the project both increase student sensitivity to ethical issues and allow students to become engaged in scholarly research.
ILLUSTRATIONS: The following illustrate the types of projects in which students have been involved
A book project the Director did with two interns: A Darkling Plain: Stories of Conflict and Humanity during War (Cambridge U Press 2015). 2 high school interns listed as co-authors. On Ethics and Economics: Conversations with Kenneth Arrow (in press). One of this book's co-authors is a former Center intern, now working as a lawyer at Covington and Burling. Science, Ethics, and Politics: Conversations and Investigations, an edited volume with chapters by Francisco Ayala, Kenneth Arrow, Warren S. Brown, William Chiu, Joe DiMento, Gil Geis, Peter Hawkins, Jennifer Hochschild, Cheryl Koopman, Nicholas Lampros, Chloe Lampros-Monroe, Adam Martin, Rose McDermott, Kristen Renwick Monroe, Gregory Peterson, Bridgette Portman, Thomas Schelling, Michael Spezio, Kevin Reimer, James Van Slyke, and Nicole Wernimont. Published by Paradigm in 2011, 6 of this book's contributors were Center interns, each of whom received credit for their work on a particular chapter.
These illustrations suggest how extensively we encourage students to become actively involved in research and how -- if they do this well -- we reward them by acknowledging their assistance publicly via shared authorship of some kind. Interns also receive a letter of recommendation to go in their file, to be used for college, grad and professional school applications, or for jobs. The best interns also are designated Francisco Ayala Scholars, to honor the work of Francisco Ayala, one of the founding members of the Ethics Center, distinguished scholar and recipient of many prestigious awards, ranging from the Templeton Prize to the Presidential Medal of Honor.
Each year the formal internship program runs for roughly one month, usually covering July and August; during this time the interns meet with the Director two times a week. Students often continue working on their project after the formal internship is completed.
HOW TO APPLY:

Faculty members willing to mentor students can volunteer to serve as a mentor by emailing Marilu Daum at daumm@uci.edu your contact information by May 1, 2019.

UCI grad students who wish to apply should send Marilu Daum at daumm@uci.edu by May 1, 2019 that following: (1) if you are willing to mentor a college or high school student; (2) if you have a project of your own on which you wish to work and, if so, describe it in one paragraph; and (3) if you do not have an existing project, if you are willing to work on a joint project with the Director and other interns.
For UCI graduate students who are interested in applying, we offer modest stipends. More information will be provided on the first day of class.
All students -- UCI graduate students, under-graduate students, local high school or college students interested in being mentored -- should send a letter of inquiry and a short vita or resume to Marilu Daum by May 1, 2019 at daumm@uci.edu.
Acceptances for the 2019 Summer Internship Program are evaluated on an on-going basis until all slots are filled. We will try to notify applicants as soon as decisions are made but we definitely will send out decisions by mid-end May.
2019 SUMMER DATES: TBD

Tuesdays & Thursdays begining June 19, 2018 end ending July 12, 2018.
FOR FURTHER INFORMATION. Contact: Professor Kristen Renwick Monroe, Director, UCI Ethics Center at krmonroe@uci.edu or 949-824-6092. Send your letter of inquiry and a short vita or resume to Marilu Daum at daumm@uci.edu.
2018 SUMMER INTERNS
Kelly Park
A rising senior at Woodbridge High School. She is passionate about topics regarding social justice. She enjoys writing and hopes to major in communications.
Soojung Ki
A rising senior at University High School in Irvine, California. I am interested in communications and psychology, as well as linguistics. This program has also given me the opportunity to explore philosophy and sociology, both subjects that I would love to learn more about.
Nichole Kim
I attend Grover Cleveland Charter High School. The general area of social sciences and social justice interests me a lot, and I am passionate about topics such as gender inequality and human trafficking. I play guitar and sing, and I love photography!
Ashley Kim
Currently a rising junior in high school, my interests are ancient history, social sciences, and business. Recently, a specific topic that has caught my attention is feminism. My favorite pastimes though are what I assume is like every other high school student, YouTube and social media. I also love reading books and because I am not too much of a social person, I would choose to spend hours in my room or a quiet library any day than go outside.
Prince Paa-Kwesi Heto
Currently serving as the President and CEO of INDIE Education Initiative (INDIE Ed I). Prince brings to INDIE Ed I a unique sense of organization management garnered from 5 continents and multiple industries. Also, he has advised and worked with many senior government officials, private sector leaders, and senior management officials in Multilateral Institutions such as the United Nations, the World Bank Group, the Common Market for Eastern and Southern Africa, the World Trade Organization and the like.
Ryan Ishii
I am an incoming senior at Cerritos High School. I am extremely interested in politics, international relations, and psychology. I do activities such as Track and Field, Modeled United Nations, and Debate Team as well as help run a student-led non-profit organization called Cooperation Act. I am outgoing and passionate and I always put maximum effort into anything I do. I love learning new things and meeting new people. One day, I hope to continue to study political theory and political philosophy, as well as explore international relations. I know that if I continue to work hard and learn from others, I will be able to achieve my goals!
Jessica Marie Gonzalez
Jessica is a graduate student in the Department of Logic and Philosophy of Science at UC Irvine. She earned a B.A. from UCLA in 2005, with a double-major in Political Science and Philosophy. In 2009, Jessica completed a M.A. in Philosophy at Cal State Los Angeles. That same year, she moved to Hilo, Hawai'i and soon began teaching philosophy courses at Hawai'i Community College and the University of Hawai'i at Hilo. Jessica's research interests are philosophy of cognitive science, philosophy of mathematics and values in science. Most recently, Jessica has been interested in what cognitive science can tell us about moral cognition.
Nicole Park
A dedicated rising senior at Los Alamitos High School who advocates for female representation in the STEM field and interweaves the two factors. She is diligent in partaking feminism and mathematics/economics. She enjoys drawing, traveling, and playing tennis and violin in her leisure time.
Nicole Liu
I am a rising senior at Temple City High School. I'm interested in learning Sociology and want to take Sociology as my major in college. I'm running clubs at my school that's relative to Humanity, such as Chinese Ancient Culture Club and Art History Club.
Sonya Gluckstein
A rising senior at Windward School in Los Angeles. I am an active participant in the Student Diversity Leadership Board and the Student Service Coordinators Team. Outside of school, I have interned with different organizations that work to inspire, nurture, and empower the resilient human spirit of people without housing and support by providing them with immediate and lasting solutions. My experience so far has taught me about making sure all peoples' voices are heard, humanizing others, and creating a welcoming environment. I personally want to bring this sense of nurturing creative differences to my community to improve inclusivity and gain a better understanding of effective solutions for social justice. In college, I plan on studying majors ranging from Social Welfare, Social Policy and Public Service, Sociology, and Human Rights.
Sunny Song
A rising junior at Portola High School in Irvine. She is involved with the National Organization for Women club and Associated Student Government at her school and is passionate about social activism, women's rights, and gender and sexuality. She is also interested in sociology and history, and plans to work with more grassroots advocacy movements in the future. She enjoys making art, reading, and blogging in her free time.
Joon Lee
A rising junior at Portola High School. I enjoy expressing my opinions through writing and exploring new academic fields. My goal is to earn an honorable career while having time to travel to my bucket-list destinations.
Samuel Shih
A rising senior at Woodbridge High School. He is interested in the workings of consumerism and government functions and hopes to study political economy in university. At school, he is the captain of Speech and Debate team as well as the History Bowl team and also participates in the Junior Classical League. He is also the Founder and President of Reason for Debate, a nonprofit dedicated to spreading debate education to students at the middle school and elementary school level. In his free time, he enjoys rooting for the Dodgers.
Annika Sial
A senior at University High. Annika is particularly passionate about animal rights and environmental conservation. In her free time, she enjoys reading, writing and playing with her dogs.
2017 SUMMER INTERNS
Ricard Chung
I am an upcoming high school senior at Santiago High School in Corona, California. I love volunteering in hospice care and working with the intellectually disabled students at my school.
Michelle Chung
An incoming 3rd-year Political Science major at UCI. Upon completion of her undergraduate studies, she hopes to attain a Ph.D. in either Political Science or International Relations. In her free time, she enjoys watching documentaries, gardening, and reading magazines.
Yunji Jong
A rising senior at Cypress High School where she is a part of the speech and debate team as well as the HOSA team. She hopes to explore the intersections of engineering/technology and philosophy when she grows older to solve the growing ethical issues with technology.
Elham Kazemi
I'm a second year PhD student in political science. I received my Master's degree in International Human Rights Law from the University of Notre Dame. My primary field of study at UCI is international relations. I'm also very interested in international ethics. My main interests lie in conflict management and post-conflict peacebuilding and the Middle East region.
Seong Joon "John" Kim
A rising senior at Arnold O Beckman High School in Irvine. John is the founder and president of the history club that seeks to promote historical awareness and annually compete in the National History Day competition. Passionate about learning the lessons of history and the social sciences, John has also discovered a new interest in anthropology. During his leisure time, he enjoys volunteering at an orphanage, teaching music, and managing his history club. Outside of an academic classroom, he also enjoys writing for the Cal Education Weekly and as Chief-Editor of a student-run newspaper.
Alvin Lee
A rising senior attending Diamond Bar High School and experienced traveler between the two remarkably different worlds on the opposite sides of the world of Asia (mostly Taiwan and China) and the United States, I have gained valuable insight regarding the cultures of both sides and the priceless skill of bilingualism. Consequently, this opened my eyes to the fascinating aspects of the various languages of the world, the cultures they represent, and the unique life stories of the people bearing such cultures and languages. I hope to explore the diverse range of cultures of this world and learn their respective languages to not only connect with more people, but dissolve the misunderstandings that may exist. I believe that only through a deep understanding of the cultures of the world and learning these languages can the various misunderstandings and the conflicts that arise from these dissipate. In my spare time, I like to read history books and ponder about philosophical questions.
Claire Lee
My interests are broad as I am the kind of person who enjoys learning whatever the topic may be. Currently, I am fascinated by the field of anthropology/archaeology and I am eager to understand the ways in which culture and society have interacted and generated many of the customs we see today. More specifically, I am intrigued by anthropological conceptions of human evolution and I seek to explore this area further. Outside of the classroom, I like to engage my creative side with a number of artistic hobbies including drawing, painting, and singing. On the off chance I have extra free time, I delight myself to weekend trips to the beach, exploring new cities, and trying new foods. Regardless of the activity, I pride myself on being able to maintain a positive outlook and an eagerness to learn. As a student member of the UCI Ethics Center I hope to share these parts of my personality while simultaneously learning from others.
Emeizmi Mandagi
A rising 4th year International Studies major and Conflict Resolution minor hoping to earn a Middle East Studies certificate during her remaining time at UC Irvine. She is primarily interested in the Middle East region. She is especially interested in how the United States' geopolitical motives influences their involvement in conflicts occurring in the Middle East. Her plans including attending a Public Policy or International Affairs program in graduate school, and following completion of a graduate program she hopes to work with a nongovernmental organization or think tank that focuses on the Middle East or with the United Nations High Commissioner for Refugees.
Michaela Murphy
A rising junior at Tesoro High School. She is interested in philosophy and biology, and she hopes to pursue a degree in neuroscience.
Vishwa Padigepati
A rising junior at Fairmont Preparatory Academy. Currently, she works for progressive political organizations as an organizer and volunteers for campaigns in California. In addition, she is an avid debater at her school's debate team and a member of the varsity tennis team. In her free time, she enjoys reading nonfiction, playing chess, and watching biographies.
Daniel Paik
A rising senior at Northwood High School. Along with interests in learning about current political events, he enjoys participating in his school's Model United Nations program. Next year, he looks forward to serving on Northwood's ASB as the Visual and Performing Arts Commissioner.
Stephanie Palmer
I will be completing my Bachelor's of Arts in Psychology in Spring 2018 from UCI. I am very interested in studying personality, morality, and components of healthy relationships, and I also love to surf and binge watch movies and television shows.
Daniel Park
An upcoming senior at Cypress High School interested in the study of sociology. As a people person, he enjoys to surround himself with educated people to have thought provoking conversations. These conversations help him understand human nature and the structures of society. His hobbies include weightlifting and arguing.
Christopher Pettit
A rising senior at Northwood High where he is a varsity tennis player and president of the debate team. In the future he hopes to study political science and law.
Jemin Ryoo
A rising senior at Aliso Niguel High School with a passion for learning, especially in the fields of History and Sociology. In his spare time, he enjoys playing the drums and leading the Marching Band as the Head Drum Major.
Samuel Shih
A rising junior at Woodbridge High School in Irvine, California. He plans to attend double major in political science and business and attend law school to become a public prosecutor. He is the captain of the Woodbridge Speech and Debate Team and is also part of the California State Debate Team. His hobbies include table tennis and talking about politics to anyone who will listen to him.
Gurveer Singh
Currently a senior in high school and is highly interested in political science, economics, and international relations. He hopes to pursue a career in international relations with a focus on ethics.
Johnny Tan
I usually read the realistic novel as my interest. During my free time, I also like to play golf and basketball with my friends.
Hitomi Torng
A rising senior (and avid cat lover) at Oxford Academy. She is passionate about current issues such as gender equality, linguistics, international relations, and environmental protection. In her free time, she enjoys drawing, hiking, painting, traveling, learning about different cultures and languages, and being a part of Friends for Hope, a club at her school that spends time with special needs students.
Jun Yun
A student at University High School. He is most interested in following economic trends, and learning more about the applications of philosophy in politics and policy.
Itzel Vazquez-Mora

2016 SUMMER INTERNS
Cecilia Avila
Nicole Balian
Caroline Cai
Yeonsoo (Jenny) Chang
Ethan Davis
Julianne Kim
Sanjana Krishnan
Ramona Martinez
Morgan Ma
Eunice Park
Morgan Pak
Danya Rafiqi
Ryan Nhu
Melanie Sobri
Shilpa Rajagopal
Nikki Tran
Alex Zhao

2015 SUMMER INTERNS
Massil Adnami
Gabriel Anderson
Sarah Bach
Eric Baldwin
Jason Berger
Scott Brown
Brittany Chen
Matin Eshaghi
Jessica Garcia
August Gweon
Michelle Jang
Jennifer Jones
Lauren Kim
Angela Lee
Denny Lee
Stella Liu
Deena Saadi
Marisol Samayoa
Kayla Schneider
Cindy Tran
Eric Yu
Kiwon Yun

2014 SUMMER INTERNS
Massil Adnani
Charmaine Archer
Silvia Avetisian
Eric Baldwin
Daniel Driscoll
Matin Eshaghi
Gabriel Forthal
Liana Gheorma
Scott D. Jacobsen
Jennifer Jones
Sabrina Liang
Gina Park
Kyle Pham
Alex Raleigh
Jeremy Wang

2013-2014
2012-2013
2011-2012
2010-2011