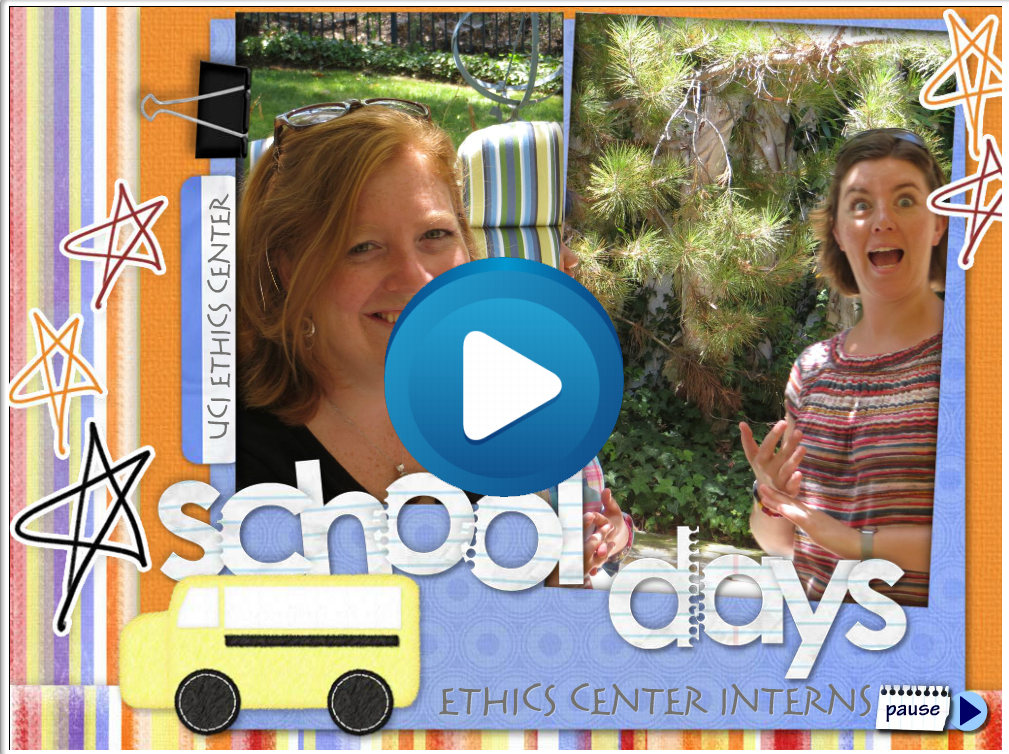 SUMMER INTERNSHIPS AT THE UCI ETHICS CENTER
SUMMER PROGRAM: Each summer the UCI Ethics Center selects a few promising students -- from UCI and nearby high schools, along with local college students home for the summer—who are interested in working closely in a mentorship program with a university faculty member or a graduate student mentor. In past years, we have tended to accept 3-4 high school interns, 4-5 students from other colleges and universities, and 5-10 UCI undergrad and graduate students. Past interns from other colleges have come from Yale, U of Chicago, Simon Fraser University, and Notre Dame inter alia. Sometimes students come to the intern program with a project on which they wish to work and sometimes they choose a topic after consultation with the Director of the Ethics Center, who then can place the student with the best faculty member for mentoring. The only requirement for a research topic is that the project both increase student sensitivity to ethical issues and allow students to become engaged in scholarly research.
ILLUSTRATIONS: The following illustrate the types of projects in which students have been involved
A book project the Director did with two interns: A Darkling Plain: Stories of Conflict and Humanity during War (Cambridge U Press 2015). 2 high school interns listed as co-authors. On Ethics and Economics: Conversations with Kenneth Arrow (in press). One of this book's co-authors is a former Center intern, now working as a lawyer at Covington and Burling. Science, Ethics, and Politics: Conversations and Investigations, an edited volume with chapters by Francisco Ayala, Kenneth Arrow, Warren S. Brown, William Chiu, Joe DiMento, Gil Geis, Peter Hawkins, Jennifer Hochschild, Cheryl Koopman, Nicholas Lampros, Chloe Lampros-Monroe, Adam Martin, Rose McDermott, Kristen Renwick Monroe, Gregory Peterson, Bridgette Portman, Thomas Schelling, Michael Spezio, Kevin Reimer, James Van Slyke, and Nicole Wernimont. Published by Paradigm in 2011, 6 of this book's contributors were Center interns, each of whom received credit for their work on a particular chapter.
These illustrations suggest how extensively we encourage students to become actively involved in research and how -- if they do this well -- we reward them by acknowledging their assistance publicly via shared authorship of some kind. Interns also receive a letter of recommendation to go in their file, to be used for college, grad and professional school applications, or for jobs. The best interns also are designated Francisco Ayala Scholars, to honor the work of Francisco Ayala, one of the founding members of the Ethics Center, distinguished scholar and recipient of many prestigious awards, ranging from the Templeton Prize to the Presidential Medal of Honor.
2017 SUMMER INTERNSHIP SPECIAL TOPICS: TBA
TIME: Each year the formal internship program runs for roughly one month, usually covering most of July; during this time the interns meet with the Director two times a week. Students often continue working on their project after the formal internship is completed.
HOW TO APPLY:

Faculty members willing to mentor students can volunteer to serve as a mentor by emailing Marilu Daum at daumm@uci.edu your contact information by May 1, 2017.

UCI grad students who wish to apply should send Marilu Daum at daumm@uci.edu by May 1, 2017 that following: (1) if you are willing to mentor a college or high school student; (2) if you have a project of your own on which you wish to work and, if so, describe it in one paragraph; and (3) if you do not have an existing project, if you are willing to work on a joint project with the Director and other interns.
For UCI graduate students who are interested in applying, we offer modest stipends. More information will be provided on the first day of class.
All students -- UCI graduate students, under-graduate students, local high school or college students interested in being mentored -- should send a letter of inquiry and a short vita or resume to Marilu Daum by May 1, 2017 at daumm@uci.edu.
Acceptances for the 2017 summer program are evaluated on an on-going basis until all slots are filled. We will try to notify applicants as soon as decisions are made but we definitely will send out decisions by mid-end May.
2017 SUMMER DATES: TBA
FOR FURTHER INFORMATION. Contact: Professor Kristen Renwick Monroe, Director, UCI Ethics Center at Krmonroe@UCI.Edu or 949-824-6092. Send all applications and other inquiries to Marilu Daum at daumm@uci.edu. On M 2015 SUMMER INTERNSHIP APPLICATION
2016 SUMMER INTERNS
Cecilia Avila
Extremely interested in politics and French literature, and one day I hope to go to law school so I get involved in the needs of the international community. On my spare time, however, I love spending time with my family, my two cats – Napoleon and Frida – and my fiancé Pierre. I also enjoy reading, gardening, cooking Mexican and French food, traveling and learning as much languages as I can.

Nicole Balian
A sophomore at Santa Margarita Catholic High School. She is interested in international affairs and humanitarian law and loves being a part of the Model United Nations program at her high school.

Caroline Cai
A rising senior at Santa Margarita high school. She enjoys learning about psychology, international affairs, and art history and is passionate about promoting civic engagement among the youth. She is also an amateur blogger and poet.

Yeonsoo (Jenny) Chang
Jenny is a rising senior at Orange Lutheran High School. Her passions include writing articles for the Korean Times, volunteering at a orphanage, and mentoring students at her school. Looking forward, she is excited to major in Cognitive Science to pursue her dream of becoming a child psychiatrist.

Ethan Davis
A high school senior at Cranbrook Kingswood. He satisfies his thirst for knowledge through study in diverse areas such as mathematics and physics, as well as philosophy and ethics. He ponders especially how environmental and external factors influence individuals, and how this influence impacts their accountability and responsibility for their actions. Ethan hopes to continue his studies in mathematics or physics in college.

Julianne Kim
A junior at Troy High School located in Fullerton. As Speech and Debate President and Opinion Editor of her school's newspaper, she found her interest in the intersection of biology and philosophy, and she hopes to study the medical humanities and bioethics in the future. She also interns at the Center for Ethical Solutions, researching live organ donation networks.

Sanjana Krishnan
Interested in discussing the new policies being introduced by candidates, especially foreign policies, since I am likely going to major in Public Policy and/or International Relations in college. I am also taking a psychology class this summer, so I feel that the second topic, "Surviving and Thriving," would also be very interesting, especially now that I have a sufficient background on Psychology and intrinsic motivation.

Ramona Martinez
A MSc candidate studying Social and Cultural Psychology at the London School of Economics. Her interests include societal and political psychology, social representations (lay knowledge), empathetic development, issue framing and moral economy (collective normative ideas on responsibility, fairness, and social obligation). She holds a BA in Political Science with a minor in Sociology from Loyola Marymount University.

Morgan Ma
Currently a 4th year Pharmaceutical Sciences major with minor in Civic and Community Engagement at UC Irvine. Interested in health-related fields and global peacebuilding. Will be working on the project related to the Syrian Refugees and their mental health.

Eunice Park
A high school student that is extremely passionate about social justice, particularly relating to gender equality & homeless advocacy. She enjoys painting, hiking, and watching documentaries in her free time.

Morgan Pak
A student at Diamond Bar High School. She is passionate about empowering today's youth to find their personal voice through politics and poetry.

Danya Rafiqi
An incoming junior at USC, majoring in Political Science. Born and raised in Orange County, I love watching movies, trying new food, and finding new local hiking spots. Coffee-bean enthusiast and social media savvy, my favorite past time is reading the latest trending article, whether it be from Politico or Buzzfeed. As a firm believer in the importance of community orientated work, I enjoy being engaged in service and student government. I hope to one day work in the political phenomenon, helping further progressive policy.

Ryan Nhu
A rising senior at Northwood High School in Irvine, California. At Northwood, he is the president of Aid for Africa and the National Organization for Women, a member of the Varsity Boys Volleyball team, and next year's elected Senior Class President. Hoping to study law or political science in the future, Ryan recently served as his school's delegate for the American Legion's 79th annual session of California Boys State, and he enjoys volunteering for local politicians in his free time.

Melanie Sobri
A second year Political Science undergraduate at the University of California, Irvine. I am a dedicated social justice advocate and a lover of boba.

Shilpa Rajagopal
A senior at Northwood High School in Irvine. Her interest in social sciences has led her to become actively involved in the annual National History Day competition for which she has received numerous awards at the local, state, and national levels over the past five years. In addition, due to her passion for biology, she also interns at a research lab and volunteers at the UCI Douglas Hospital where she interacts with patients, nurses, and other hospital staff. Apart from her research interests, Shilpa serves as the co-Editor-in-Chief of her school's yearbook The Element and is president of the Prom Project/ Working Wardrobes club which helps low-income girls across Orange County.

Nikki Tran
A rising junior, majoring in English with a creative writing concentration at Stanford. She is also pre-med. Her interests include: pop culture and contemporary literature.

Alex Zhao
A senior at La Canada High School. He participates in competitive debate, combining his interests of policymaking and ethics to debate about controversial issues in modern politics. He is particularly interested in the intersection between international relations and political philosophy. In the future, he would like to research the connections between political identity and foreign policy, as well as the US-China relationship.

2015 SUMMER INTERNS
Massil Adnami
Gabriel Anderson
Sarah Bach
Eric Baldwin
Jason Berger
Scott Brown
Brittany Chen
Matin Eshaghi
Jessica Garcia
August Gweon
Michelle Jang
Jennifer Jones
Lauren Kim
Angela Lee
Denny Lee
Stella Liu
Deena Saadi
Marisol Samayoa
Kayla Schneider
Cindy Tran
Eric Yu
Kiwon Yun
2015 SUMMER INTERNS
Massil Adnani

Massil Adnani is a rising senior at Northwood High School. Hoping to study political philosophy and law in the future, Massil enjoys participating in his school's debate and mock trial teams, and interning for politicians in the Orange County area.
Silvia Avetisian

Silvia Avetisian is entering her fourth year as a Criminology, Law & Society undergraduate. She's interested in studying juvenile justice as well as the moral implications and reasoning behind our actions. She's currently organizing a new club on campus based on peer support and mental health. In the future she would like to work with at-risk youth and help steer them toward a positive, honest, and rewarding life.
In the 2014 summer internship program at the Ethics Center I researched equity-based programs and resources that various universities have implemented after receiving NSF awards. I also searched and collected several of Hillary Clinton's speech and interview transcripts from Bill Clinton's campaigns as part of the self-presentation analysis based on Hillary Clinton. Lastly, I helped organize the "2014 Summer Interns" page. Through this internship, I was able to dedicate my attention and educate myself about the prominent issue of inequality in the workplace that affects women and minority groups all across the U.S. In the future I can apply my newfound knowledge to my own situation and make educated decisions as to reap the greatest benefits. I gained insight from our discussions about individual decision-making that takes into account various factors of life including school, family, work, etc. I found this project to be very enlightening as it raised awareness of how institutions are reacting to such problems and what types of solutions are the most popular and effective. My future plan is to work with at-risk youth as a tutor and/or mentor and complete my last year at UCI as an undergraduate.
Eric Baldwin

Eric Baldwin is seriously enjoying academia. He is currently exploring American queer social movements, modes of narration within those movements, and the role of emotion in social protest. He is interested in doing research that combines ethnographic, archival, and qualitative analysis.
Daniel Driscoll

Daniel Driscoll, a 2014 graduate of the University of Redlands, is interested in environmental ethics and politics, the effective communication of sustainability issues, and people who are environmental exemplars. "The 2014 Summer Internship Program offered a period of deep education and collaboration on a vital topic, that is, gender inequalities in academia and solutions to those inequalities. The information we gathered was especially important to me because I plan to enter this profession.
Matin Eshaghi

Matin (Ryan) Eshaghi is a junior at University High School in Irvine, California. He plans to attend medical school and become a radiologist yet also has interests in corporate responsibility and investment strategies. His hobbies include snowboarding and photography.
Gabriel Forthal

Gabriel Forthal is a 19 year old rising junior college student, currently in the process of transferring from UCSD to the New School. He studies history, with his biggest interest being (among others) Eastern European and Soviet history. He's also very interested in art of all types and art history as a possible graduate school concentration.
Liana Gheorma

Liana recently graduated with a Bachelor's degree in Psychology, with Distinction in General Scholarship from University of California, Berkeley, where she volunteered as a research assistant in the Berkeley Personality lab and in the Berkeley Social Interaction lab. Her areas of interest are the psychological effects of income inequality as well as how emotions and cognitive processes affect social interaction. "Taking part in the Summer Internship program at the UCI Interdisciplinary Center for the Scientific Study of Ethics and Morality this summer has exposed me to the many barriers facing female researchers."
Scott D. Jacobsen

Scott D. Jacobsen's research interest are cognitive psychology, epistemological psychology, greek history, historical philosophy, historical psychology, international relations, logic, linguistics, philosophy of science, positive psychology, psychiatry, psychometrics, set theory, statistics, and women's rights
Scott D. Jacobsen presents posters, panels, and papers independently and with varied research labs and groups. He coauthored two books entitled Inquiry: Musings from Mentorship and Rick G. Rosner: Collected Journal Writings. He works on two new books entitled Women of the Academy: Reflections, Biographies, and Insights from Female Academics and Tweets to the Universe. He published numerous articles in The Peak, The Ubyssey, In-Sight, Synapse, American Enterprise Institute (AEI), and Noesis:The Journal of the Mega Society. Scott founded (2012), and works as the Editor-in-Chief for, an independent interview-based journal, In-Sight: www.in-sightjournal.com. Scott D. Jacobsen sings bass in a university choir, performed with the Vancouver Symphony Orchestra, and competes in Model United Nations (MUN) conferences including Harvard World MUN. If you want to contact Scott, you may inquire or comment through e-mail: Scott.D.Jacobsen@Gmail.com
Scott D. Jacobsen's selected publications include:
McAuley-Bax, S. & Jacobsen S.D. (2014, November). Female Economist on Education and Leadership. Transformative Dialogues: Teaching and Learning Journal. Retrieved from http://www.kpu.ca/sites/default/files/Transformative%20Dialogues/TD.7.3.8_Jacobsen_Female_Economist_on_Education%26Leadership.pdf.
Rosner, R.G., & Jacobsen, S.D. (2014, November). Interview with Rick Rosner (Part One). Noesis: Journal of The Mega Society. 197. 4-13. Retrieved from http://megasociety.org/noesis/197.pdf.
Rosner, R.G., & Jacobsen, S.D. (2014, November). Interview with Rick Rosner (Part Two). Noesis: Journal of The Mega Society. 197. 14-23. Retrieved from http://megasociety.org/noesis/197.pdf.
Jennifer Jones

Jennifer Jones is a fourth year PhD student studying political psychology at UC Irvine. Hailing from the Maryland/Washington DC area, Jen grew up in a political bubble. Some of her experiences include protesting the Iraq war on the National Mall, lobbying for clean energy in Annapolis, MD, and interning for the then-Majority Leader of the House of Representatives, Steny Hoyer. As a graduate student, she seeks to understand the relationship between morality and political identity and how such values and ideals are communicated between political leaders and the American public.
Sabrina Liang

Sabrina is a senior at Diamond Bar High School. An aspiring International Relations major, she also loves alpine skiing, debate, philately, culinary experimentation, et parlant français. Her dream is to become an ambassador and discover the political, economic, and social changes we need to resolve today's most pressing global issues.
Gina Park

Gina Park is a rising senior at Santa Margarita Catholic High School. She is interested in the studies of law, psychology, and business.
Kyle Pham

Kyle Pham is an incoming freshman and Trustee scholar at the University of Southern California. Having founded the Behavioral Exploration Club at Arnold O. Beckman High School, he has a passion for learning about the forces that compel and influence the human mind. Kyle is planning on majoring in cognitive science in a pre-law career path.
Alex Raleigh

Alex Raleigh is a third year doctoral student in political science. She received her bachelor's degree in political science and psychology from the University of Connecticut, where she conducted research on the psychological analysis of political leaders from afar. Alex's current research focuses on the dynamics of transitional justice mechanisms during post-conflict transitions.
Jeremy Wang
Jeremy Wang is currently a senior at Northwood High School. Having had multiple years of experience in High School debate and scientific research at the University level, he is highly interested in encouraging discourse and discussion between policy-makers and scientists. In addition, he hopes to blend his passions of philosophy and medicine to pursue a career in medical ethics.
2013-2014
2012-2013